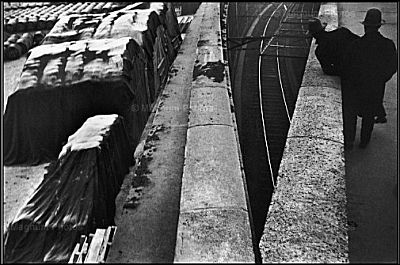 Henri Cartier-Bresson was one of the first photographers to use a 35mm camera. This meant he could go onto the streets and take more impromptu images and capture the 'Decisive moment'.
"Brie" by Henri Cartier-Bresson, June 1968, Brie, France
Many of his images employ 'the rule of thirds'. This is where the rectangle frame is broken into thirds and the point of emphasis takes place on the side, rather than the centre. The rule of thirds is based on the Golden Rectangle.
Andreas Feininger's 'Chambered Nautilus Shell' (top image) shows a closer section of this phenomenon. Feininger produced a series of work called 'Structures of Nature' that looked at how forms in nature have influenced human design.
The Modernist painter Piet Mondrian broke painting down into its basic components - vertical lines, horizontal lines, black, white and the primary colours. His mature paintings are full of Golden Rectangles and they have no reference to the world - the natural conclusion to this is a pure white painting.
1908
1913
1918
1923